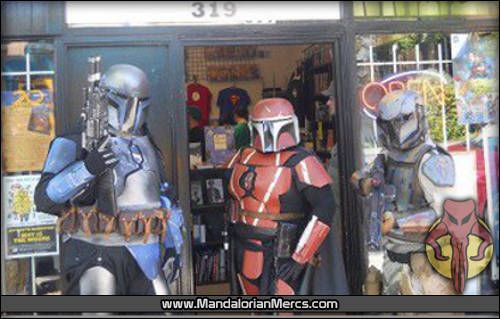 Invasion Location:
"Free Comic Book Day" - Seattle, WA (USA) "May the Fourth" - Everett, WA (USA)
Date:
May 04, 2013
Clan Involved:
Cer'kurshi
Mission Objective:
To promote Free Comic Book Day and May the Fourth Be With You Day while promoting the MMCC and our love for Star Wars and costuming.
Invasion Report:
The Day was hot and the hours long as brave Mandos from the mighty Cer'kurshi invaded the Comics Dungeon in Seattle for Free Comic Book Day. The crowd was massive as comic book readers of all ages descended on the small comic store to get their hands on some free comics (one of which being a story about Boba Fett and Darth Vader) and even dig through the bins the store had to offer to find nice gems to add to their own collections.
Many people stopped and asked for photos, the Mercs took on the horde of picture takers with steadfast dedication and an arsenal of blasters at their sides. Many questions about armor and the Mercs were asked and answered, as well as many cards handed out. Aided by the local 501st and Rebel Legions, the Mandos survived that encounter only to be called away immediately after the word of a suspicious Tusken Raider lurking outside BobaKhan Toy Store.
Two Mandos left to investigate things and found a rather sharpishly dressed Tusken named Sandy, together the trio teamed up and partied with customers at BobaKhan Toys for their May the Fourth Day celebration and Free Comic Book Day gathering. More photos were taken and more questions about armor and costumes abounded.
Double duty paid well, all bounties were collected. OYA!
Original report by BUBBA D. FETT